Wednesday, November 24th, 2004
---
2:13 pm
- CHUM/CITY Christmas Wish
I don't know whwther to be glad or pissed!?!

For the past 2 years, I have run a toy drive at work to collect for the CHUM/CITY Christmas Wish. When I started this 2 years ago, I had no help, I had to get all the approvals and do all the marketing, collecting, delivering, etc. by myself.

This year, I was contacted by a coworker who needed to talk to me, since he had been assigned the CHUM/CITY Christmas Wish project!

So, my piss off is that when I start it nobody helps out, but now that it works and people like it and look for it, its being pulled away from me, without even asking me first about it!

Now, the dudes doing it are cool, and I'm still basically running how it goes down, but its a bit of a sting anyway. I don't want the kudos for doing this at work, I could care less about the kudos, I just want to do something helpful.

Xmas means shit to me, having grown up Jeohovah's Witness (leading to my current atheism) this holiday isn't important to me, but I realize how important it is to kids (try being a Jeohovite kid at Xmas, when all your other friends get cool shit, and you just get shit - you'd understand). I like being able to do something to help those kids, thus making myself feel a bit better during a time of year that usually bums me out.

Anyway, am I take offence for nothing? Should I be happy that now that its an 'assignable' task, it should continue annually now, even were I to leave the organization tomorrow (I know this is a good thing - but it doesn't seem to take the sting out of it)? Do I have a right to be feeling like I've had something important to me yanked out from under me?

Oh, and you all should go and help this cause - for all the kids in this city who, through no fault of their own, are going to have a crappy Xmas! They always need toy donations and volunteers to help do numerous things - get involved!

http://thewish.ca/wishCore.cfm
Thursday, November 4th, 2004
---
10:06 am
- Blah blah blah......
Way to go America, thank you for saddling the rest of the world with 4 more years of GWB - if you thought the last 4 were bad, wait till you see what he can do now!

On a happier note - I have next week off! Yay me!

On Monday my company d.o.r.k. (http://www.dorkARMY.com) will be hosting a HALO 2 launch event LAN party at Microplay - 1330 Danforth Ave. (East of Greenwood subway). We will be there from 4 pm on Monday playing 16 player HALO on two seperate hubs of 16 players, until midnight, at which point we will be busting out the copies of HALO 2 and firing them up to play!

For any of you gamers - you do not want to miss your opportunity to be rocking out some 16 player HALO 2 action mere moments after the game has been released across North America!

For any of you east enders, drop by and say hi, just to keep us in touch with the real world and let those of us lost in gameland keep up to date on current events! ;oP

Then I will be spending the rest of the week sitting around my place, chilling out, playing my H2, and getting ready for our next event the following Sunday @ B-Sweet (http://www.b-sweet.com) from noon until 6 pm. Again, 8 27" flat screen TV's will be pumping out the multiplayer HALO 2 action, as well as a variety of other game selections we will have available for those who are all HALOed out (are there any people like that out there - I don't see how?)

So that is my itinerary for the next little while! If anyone is looking to hang out and blow some time next week, or maybe wants to come and get themselves smoked at H2, let me know and we'll hook something up!

So long suckers!
Sid out!
Friday, October 15th, 2004
---
10:31 am
- Getting Up To Date!
So who else rocked out to Ministry last night?

Show was great, but my body hurts real bad this morning, I have some nice chest bruising from the mosh pit battles, and I feel so hung over and pukey I can barely focus!

And the strike that my union has been engaged in all week of course ended this morning! I could have handled 4 hours of picket line duty, but just trying to focus on a screen right now is seeming to be a lot more difficult then on a non-concert evening.

And last but not least, my new business venture d.o.r.k. is launching its first of a new bi-weekly series of events this Sunday - lots of pressure and shit to get done before then. If you are a video gamer - you do not want to miss out on this event!

We've been busy with this business over the last few weeks, we went out and purchased 8 27" flat screen TV's for use at the events, as well as extra copies of games and extra systems, and we also booked ourselves an event for Nov. 8-9 on the Danforth to help Microplay launch HALO 2, that will be another good event.

So there I am, all up to date with the happenings of my life - for now!
Thursday, October 7th, 2004
---
1:33 pm
- Announcing d.o.r.k. B.R.A.W.L.@BSweet - Bi-weekly Xbox LAN Event Starts Oct.17
** FOR IMMEDIATE RELEASE - Please forward this message on to any Toronto area residents on your contact list, and ask them to do the same, thanks! - General ERROR
---------------------------------------------------------------------------------------------------------

ATTENTION!!

THE PRESIDENT of the UNSC:
Good evening. Let me begin by speaking to you, the people of Earth, about the current situation with the Covenant. As you all know, these last few weeks have been very tough, trying times for our planet. Human forces around the globe have been preparing for the inevitable attack on the earth by the Covenant's approaching armada.

The projected day of invasion is November 9th 2004. This day will be forever known as "Zero day:H2". Earth will never be the same...

For this reason we must fight, we must not falter, and we must stay the course to eliminate this threat to our planet for good.

Due to this dire need, we are initiating a draft of all able bodied men & women into the most advance branch of the Human army, to receive their training to become soldiers of the SPARTAN II project. I have appointed the d.o.r.k.ARMY Command to manage our high-tech virtual training and recruitment centres all over the country to prepare our SPARTANS for the impending battles. I strongly encourage all potential Master Chiefs to attend in order to better mankind's chances against the Covenant.

Thank you all, good night, and God bless our blue planet...

Here are the details that you will need:

B.R.A.W.L.~ Bragging Rights in an Alternate World League

WHERE:
B Sweet - 1279 Queen St. W. (just west of Dufferin).
this is a 19+ event as this is a licensed establishment, alcohol will be served

WHEN:
Launching - Sunday October 17th 2004 - 12:01pm to 6:00pm or later
Arrive early to ensure seating.



(

Read more...Collapse

)
Monday, October 4th, 2004
---
11:24 am
- New Virus - Codename WORK
There is a new virus. The code name is WORK. If you receive WORK from
your colleagues, boss, via e-mail, or from anyone else, do not touch it
under any circumstances. This virus wipes out your private life
completely. If you should happen to come in contact with this virus,
take two friends and go straight to the nearest bar. Order drinks
immediately and after three rounds you will find that WORK has been
completely deleted from your system.

Forward this virus warning immediately to at least five friends.
Should you realize you do not have five friends, this means you are
already infected by this virus and WORK already controls your life. If
this is the case go to the bar and stay until you make at least five
friends. Then retry. I think I have five friends, but am not entirely
positive so I'm headed for the bar anyway....it never hurts to be safe.
Thursday, September 30th, 2004
---
12:20 pm
- Article on Toronto - Bike Theft capital of North America!
Article from the Globe & Mail:

Thieves mightier than the pen
Who needs a Bic? The bike-heist pros use jackhammers and canned Freon


(

Read more...Collapse

)
11:23 am
- Sponsor me for the CN Tower Stair Climb!
Hey folks - it's Steve - trolling for donations for the United Way!

I, as team captain of my team at work, get the pleasure of climbing the stairs of the CN Tower TWICE this year, to lead 2 of our teams to the top!

If you would like to help inspire me to make it to the top, please pledge me and make a donation to help support the United Way. If you have any unused room for charity tax right offs now would be a perfect opportunity to take full advantage!

Please feel free to forward this to anyone else you know who may be interested in pledging my climb, and let me say thank you in advance to all of those of you who will choose to make a pledge!

PS - There is still time to sign up! If you would be interested in joining our team and climbing the tower with us, please let me know and we'll get you signed up - the more the merrier!

Remember - "Without you, there would be no way!" ;o)
Steve


(

Read more...Collapse

)



current mood:
hopeful
Friday, September 24th, 2004
---
9:35 am
- Decisions decisions!
Wednesday, September 22nd, 2004
---
1:53 pm
- Happy.....
Happy Birthday Mom!


(Yes, my mommy is on LJ!)
Friday, September 10th, 2004
---
10:57 am
- "How many times have you been arrested, Mr. President?"
Wednesday, September 8th, 2004
---
11:08 am
- XC Mountain Bike for Sale (not mine)
Last time I am reposting this, because my friend has an offer on the table, that if it doesn't get beat quick, it will be gone. Price has dropped on this now to $500 - which is well worth it if you ask me!

So, if you, or someone you know, may be interested, please email my friend directly and be sure to tell him (Stevie-B) that I (Stevie-K) sent you - he'll owe me some beers! - El Sid

PS - I helped build the bike from scratch, so I may be able to help answer any questions anyone may have
-------------------------------------------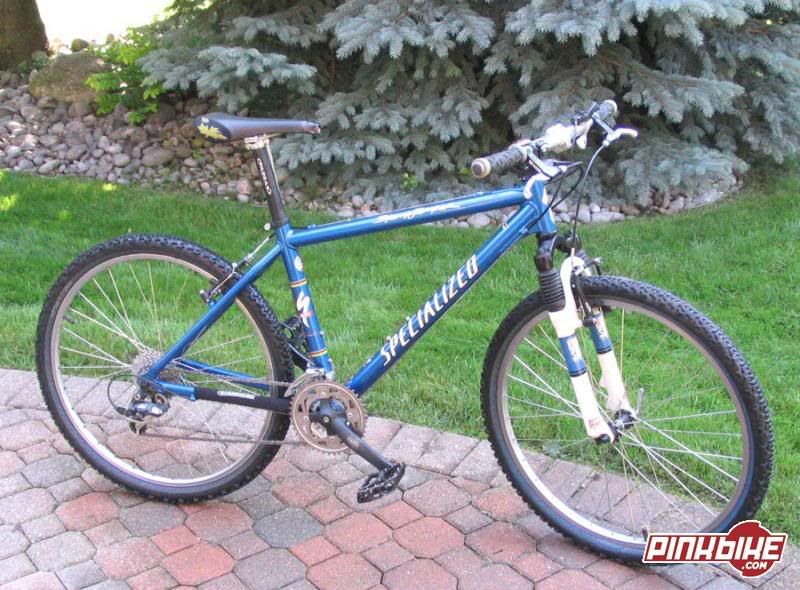 Specialized Stumpjumper

Price - $500 CAD
Email - stevie-b - stevenbon78@hotmail.com
Location - Toronto, Ontario, Canada

Description - This is a solid x-country bike. It's a smaller size frame. Only reason for selling is that she's too small for me. Here are the specs: M2 metal matrix. Judy XC catridge system. XT front derailler. Avid front and rear brake. LX hubs. BRAND NEW: LX rear derailler, Onyx crank, deore shifters, LX casette. I won't ship the bike so I prefer to deal with people in the GTA. Make me an offer. Cheers
Friday, August 6th, 2004
---
10:28 am
- Is Bush not one of the dumbest people - hands down?
How many 'Bush-isms' are we going to have to endure before the end of this morons reign down south?

New 'Bushism' Born at Bill Signing

WASHINGTON - President Bush offered up a new entry for his catalog of "Bushisms" on Thursday, declaring that his administration will "never stop thinking about new ways to harm our country and our people."

Bush misspoke as he delivered a speech at the signing ceremony for a $417 billion defense spending bill.

"Our enemies are innovative and resourceful, and so are we," Bush said. "They never stop thinking about new ways to harm our country and our people, and neither do we."
Thursday, August 5th, 2004
---
10:11 am
- Sarcasm up your......
Tuesday, August 3rd, 2004
---
3:35 pm
- B-boys or TransFormers?
11:15 am
- HOW TO CRAP AT WORK
We've all been there but don't like to admit it. We've all kicked back in our cubicles and suddenly felt something brewing down below. As much as we try to convince ourselves otherwise, the WORK POOP is inevitable. For those who hate pooping at work, following is the Survival Guide for taking a dump at work.


(

Read more...Collapse

)
Wednesday, July 14th, 2004
---
10:46 am
- Vacation!
Tomorrow night my son will be arriving from Vancouver for a 2 week visit. I have one more day left sitting at this desk before I'm off until early August!

While I am away, I will have no net access, so you will all just have to live without me for a while - but when I come back, I should have 2 weeks worth of stories to write about up here!

Enjoy your July folks!
Sid
Tuesday, July 13th, 2004
---
9:13 am
- School Supply Drive
Supplies can be donated at local Rogers Video stores

TORONTO, June 15 /CNW/ - Rogers Cable is preparing students to go back-to-school in September, just as children are looking forward to summer vacation. The annual Rogers School Supply Drive kicked off today with help from the Daily Bread Food Bank.

The drive collects school supplies for underprivileged students in the Greater Toronto Area. High priority items include pens, erasers, rulers, glue sticks, packages of loose leaf paper, binders, calculators, coloured pencils, pencil sharpeners, highlighters and pencil cases. Donations can be dropped off at any of 45 local Rogers Video stores, and the Daily Bread Food Bank will act as distribution centre to the community.



(

Read more...Collapse

)
Friday, July 9th, 2004
---
2:59 pm
- MasterCard Wedding
I received this email today and thought it funny enough to share, whether it is true or not! - Sid

You gotta love this ..... This is a true story about a recent wedding that took place at Clemson University. It was in the local newspaper and even Jay Leno mentioned it.

It was a huge wedding with about 300 guests.

After the wedding at the reception, the groom got up on stage with a microphone to talk to the crowd. He said he wanted to thank everyone for coming, many from long distances, to support them at their wedding. He especially wanted to thank the bride's and his family and to thank his new father-in-law for providing such a lavish reception.

As a token of his deep appreciation he said he wanted to give everyone a special gift just from him. So taped to the bottom of everyone's chair, including the wedding party, was a manila envelope. He said this was his gift to everyone, and asked them to open their envelope.

Inside each manila envelope was an 8x10 glossy of his bride having sex with the best man. The
groom had gotten suspicious of them weeks earlier and had hired a private detective to tail them.

After just standing there, just watching the guests' reactions for a couple of minutes, he turned to the best man and said, F-- you!". Then he turned to his bride and said, "F- you!". Then he turned to the dumbfounded crowd and said, "I'm outta here."

He had the marriage annulled first thing in the morning. While most people would have cancelled the wedding immediately after finding out about the affair, this guy goes through with the charade, as if nothing were wrong.

His revenge...making the bride's parents pay over $32,000 for a 300 guest wedding and reception, and best of all, trashing the bride's and best man's reputations in front of 300 friends and family members.

This guy has balls the size of church bells. Do you think we might get a MasterCard "priceless" commercial out of this?

Elegant wedding reception for 300 family members and Friends.........$32,OOO.
Wedding photographs commemorating the occasion...........$3,OOO.
Deluxe two week honeymoon accommodations in Maui........................$8.500.

The look on everyone's face when they see the 8x10 glossy of the bride humping the best man...........Priceless.
There are some things money can't buy, for everything else there's MASTERCARD!
11:47 am
- Cows for the Masses!
Is it just me or does anyone else find it absolutely amazing that the U.S. government can track a cow born in Canada almost three years ago, right to the stall where she sleeps in the state of Washington, and determine exactly what that cow ate. They can also track her calves right to their stalls, and tell you what kind of feed they ate.

But they are unable to locate 11 million illegal aliens wandering around in their country, including people that are trying to blow up important structures in the U.S.

My solution is to give everyone a cow as soon as they enter the country.
Monday, June 28th, 2004
---
11:25 am
- Voting day!
Hey, everyone's going to be going out to vote today right?!?

Who's planning on voting, and who will you be voting for?

If you don't have a problem sharing this info, please do, I'm curious...

I will personally be going to cast my ballot for the NDP right after work - I have the man Jack himself in my riding, so I have to go vote for him. I've even managed to talk the fiance into coming out to exercise her right to vote as well.

By my current polling, I have the following results - if it were only my associates picking our government:

Tory 1
Lib 2
NDP 3

So jump in with your votes so I can continue my polls!